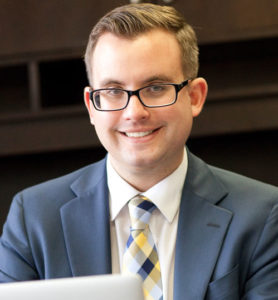 I am a family law specialist – I can say that because all I do is represent people through their family needs whether changing the current family tree to planning for the future. I'd rather be excellent at one area of the law than mediocre in many of them."
Dan Exner, J.D.
Divorce & Family Law Attorney and Founder of Exner Legal, LLC
I can call myself a family litigation specialist because I exclusively handle cases that affect your family. I differentiate myself from other attorneys in that I communicate with my clients and the way I structure my attorney fees.
Communication
You would be shocked to learn that most litigators are terrible communicators. Apparently, they do not return their clients' phone calls, ignore emails, and fail to meet with their clients prior to the next court date. Their clients end up in life-changing litigation completely stressed out because they do not know the status of their case. I know this to be true because I have two types of clients. The first who meet with me prior to filing any lawsuit and want to do it right. The second who hired these other attorneys and are completely frustrated with their case.
I will never understand this trend because attorneys talk for a living so who are these practitioners talking to if not their own clients? I view myself as not just a counselor and advocate but a stress-reducer. The best way to reduce a client's stress is with robust and effective communication. You are not in court every week like I am. This may be your first and only appearance before a Judge. The best way to get you through this process as painless as possible is to make sure you know exactly what to expect, say, and do.
Low Stress Fixed-Fee Structure
The other aspect I manage differently (and better) than 98% of other attorneys is how I structure my fees. Quite simply – I do not charge my clients by the hour. You have likely heard of the "billable hour" and it makes a lot of sense from the attorney's perspective. Attorneys do not know after one or two meetings how much time and effort any one case will take so, to protect themselves, they tell your they cannot possibly guess how much your case will cost. They tell you they will charge anywhere from $200 to $500 per hour, which is $20 to $50 every six minutes, and require a couple thousand dollars to get started. From there, you receive a mystery bill every two weeks and it is either minimal, and you sigh in relief, or its astronomically high, and you panic. Then you worry about how you are going to pay the bill and the attorney worries about if you will pay – and stress ensues on both ends.
You know who doesn't like this fee structure? The client. What other professional service do you engage – besides healthcare – where you do not have some sense of the total cost before you agree to the services? In litigation, there are plenty of people that you will butt heads against. The last person you want an adversarial relationship with is your own attorney when it comes to the bill.
As an improvement, I developed a fixed-fee model that is based on (1) the type of litigation required; and (2) how long the litigation lasts. The less complex and complicated the matter, the lower the potential bill. The quicker the resolution, the lower the cost. I also include mechanisms in this model so the client has control over the total expense – something the "billable hour" model completely lacks. I also offer different representation models so that clients who may definitely need a lawyer's advice can get that counsel without having to come up with a several thousand-dollar deposit just to sit down and talk.
The Twin Pillars
These twin pillars of my practice are meant to shift the focus away from the attorney and back on the client. Most attorneys (and, therefore, law firms) care far too much about themselves. They spend inordinate amounts of money on the flowers in their foyer (true story), what kind of car they drive, or who has the "better office."
You know who doesn't care about that stuff? Your children. Who else? The Judge of your case. In today's technology-forward society, you may only physically go to your attorney's office once or twice in the entire case.
At the end of the day, I'm going to get you court orders that affect your life, not mine. This is your case. I am a tool to get you from where you are to where you want to be. Afterwards, if you never want to see me again professionally – great – that's the goal.